Yin and Yang in the bathroom
Bathroom in black and white, with clear lines and minimalist elegance
A bathroom in black and white radiates minimalist elegance. The dual color concept creates tension while calming at the same time. The furnishings combine linear precision of gently sweeping forms while emphasizing the play of contrasts. Sensual faucets in white chrome pick up on the design motif and offer innovative functionality for modern water enjoyment.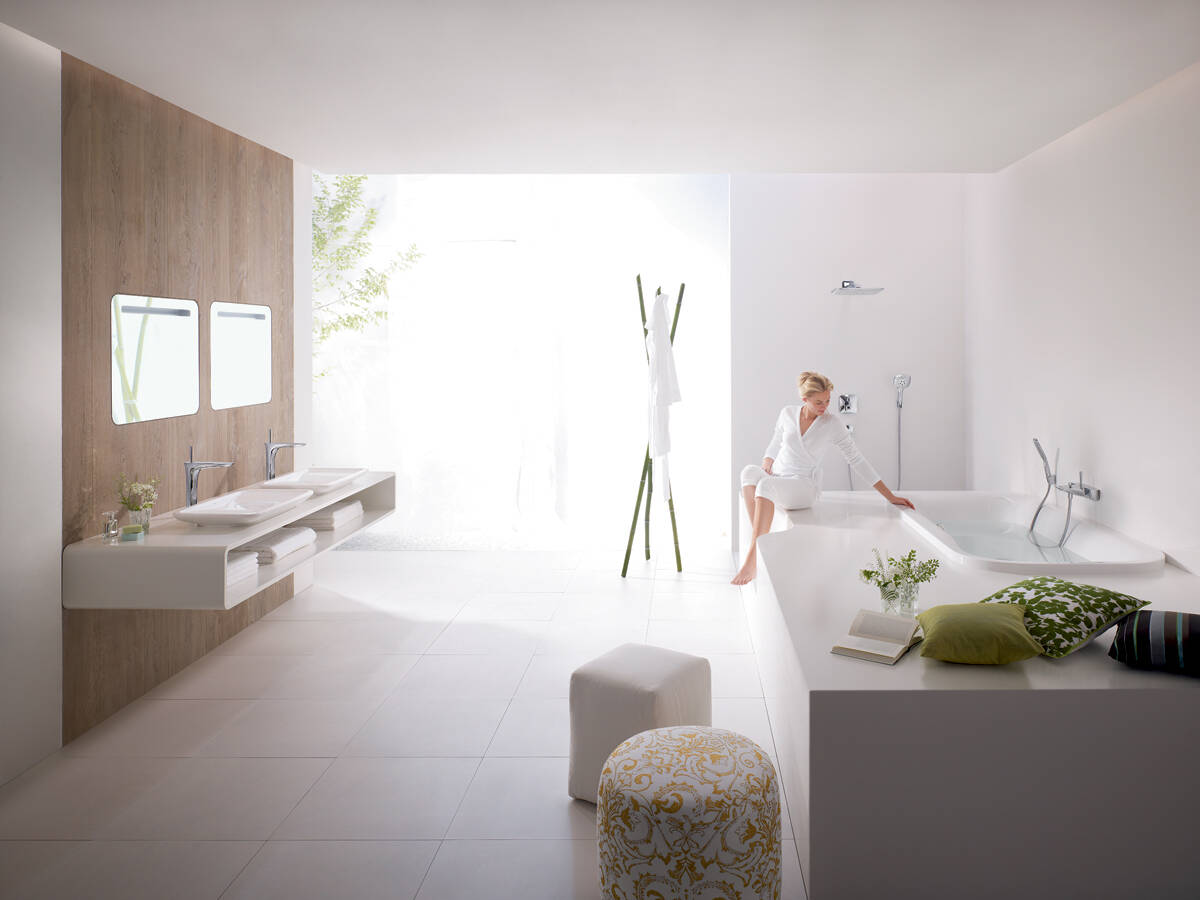 Bathroom with elegant contrasts
Bathroom with black and white furnishings and a minimalist language of form
Are you planning modern new construction or a high-quality renovation, and are you delighted by a harmonious balance of contrasts? Choose a dual color concept and create a bathroom in black and white. Furnishings in minimalist style suit the clarity of the setting itself. The attractive tension between precise lines and gently rounded shapes supports polarity of color. A freestanding bathtub in the center of the room stands out perfectly against dark floorboards. Its radiant, white finish promises haptic pleasure and the slightly curved shape invites you to relax and enjoy the water. Black and white bathroom furniture at the sink create an elegant ensemble. The border between functional bathroom fixtures and exclusive items of furniture becomes blurred. A seating area with black leather chairs and a spacious transition to the bedroom, also designed in black and white, emphasize the personality of the space.   
Straight-lined shapes and innovative functionality, for modern water enjoyment 
With their
sensual shapes
, the faucets in the
hansgrohe PuraVida range
 underscore dual aesthetic of a bathroom in black and white. Positioned in the middle of the room, the slender, freestanding tub filler serves as an elegant eye-catcher. These exclusive forms conceal innovative technologies: for more comfortable water enjoyment and more conscious use of resources.
Authorised dealers
Locate showrooms of authorised dealers near you
hansgrohe Loading Dealer Options
An error has occurred. Please refresh the page.