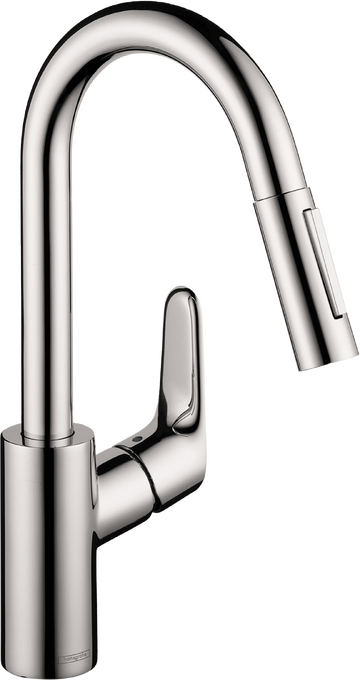 Focus
Prep Kitchen Faucet, 2-Spray Pull-Down, 1.75 GPM
Select Variant (4)

Focus
Bar Faucet, 1.5 GPM
Select Variant (2)
Swiveling, extendable, functional
Miracle of convenience with hand spray for price-conscious cooking fans
Cooks like to work with the best ingredients. In the view of hansgrohe: This starts with the faucet. Our Focus range has brains, beauty and functional solutions for every kitchen environment. Convenient: We offer basic Focus versions with a high spout and long handle. And we have a reasonably priced kitchen faucet with dual-jet hand spray for you.
Intelligent functions and high-quality design at an attractive price
Focus range kitchen faucets combines aesthetics and practicality. They offer a wide range of combination options and blend in perfectly in modern kitchens with straight, clear lines. Depending on the color of the oven, fridge, extractor hood or handles in your kitchen: The finish in chrome or optional scratch-resistant stainless-steel look fits into any setting.
Welcome to the ComfortZone! The high spouts create a lot of space between the faucet and sink. In the Focus range, you will find models with high swivel spouts; adjustable in three levels of 110°, 150° and 360°. Enjoy the added comfort that the Focus kitchen faucet with hand spray brings with it. With these practical faucet extensions, you are provided with two different spray modes that you can change at the touch of a button: normal and shower spray. The normal spray fills pots and pans accurately and quickly. The wide shower spray is used to wash vegetables, salad, fish and meat thoroughly. Particularly easy to use is the ergonomic handle and the variable handle placement. Simply let your plumber know whether you want the right-handed or left-handed version installed.
Authorised dealers
Locate showrooms of authorised dealers near you
hansgrohe Loading Dealer Options
An error has occurred. Please refresh the page.