A kitchen for all situations in life
Which kitchen type am I?
You're planning a kitchen that perfectly suits your life? Here you can learn how the heart of the kitchen optimally supports your individual everyday life: Depending on whether you're planning for a family or a single household. And whether you enjoy cooking like a professional or place the focus on design. Or on a kitchen that makes everyday life easier.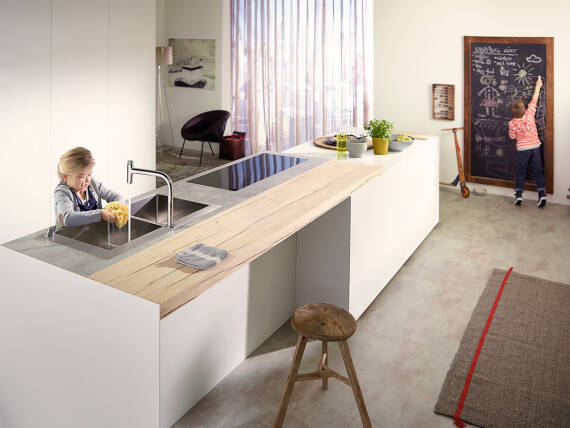 The family Kitchen for turbulent everyday life
Everything plays out in the family kitchen: Preparing food for large and small, not infrequently at the same time, sharing the latest news and washing hands, getting a glass of water now and then, not to forget the pet's water bowl. Lots of storage and work space is in high demand here. Skilfully combine the dream kitchen for the broad array of tasks with a double sink or a large sink with extra draining board, which includes a highly functional kitchen faucet. A coordinated combination of sink and faucet are particularly accommodating for you and your little ones. With a hansgrohe combination sink, the controls are easy to reach at the front edge of the sink, and there's valuable, delightfully tidy storage space in the undercabinet: The integrated sBox stows the pull-out hose in a fixed box in a space-saving way and ensures that you can easily pull out the shower hose that noticeably expands your radius of action.
These products around the sink make the whole family feel right at home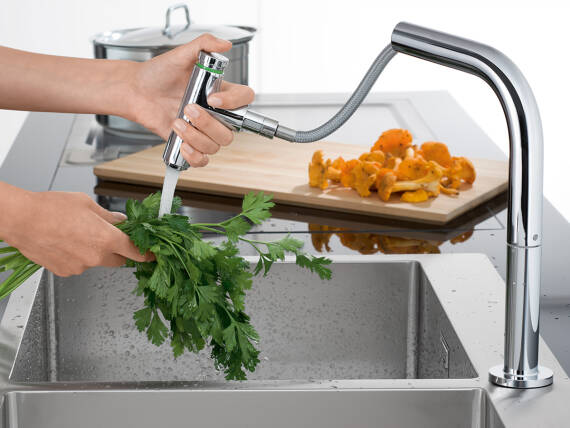 Hobby chefs: At eye level with the professionals 
Or are you a hobby chef who enjoys it when even complex workflows flow smoothly? Then clearly organized storage space and the utmost workplace functionality where water is concerned are important for you. The high-quality kitchen faucet needs to deliver right away: Water in the required spray mode and temperature for spraying vegetables, rinsing fish and meat and, not least, for pinpoint-accurate filling of pots. All this works particularly easily at the touch of a button, thanks to Select technology, and if you have your hands full, you can operate it with the back of your hand. The Comfort Zone for working with vessels of different heights and a large radius of action with the particularly smooth-traveling pull-out hose make work efficient. Also consider choosing two sinks side-by-side for different tasks, or a large sink  with enough space for even baking sheets and pans. hansgrohe gives you a five-year guarantee for demanding use of the kitchen faucet and cartridge – for enjoyment for years to come.
This will have you working at top capacity in your own private cooking arena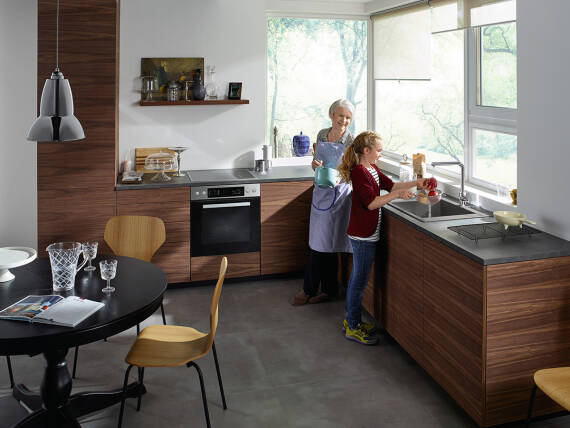 Modern kitchen for all generations
You'd like a kitchen in which you can continue to relax when you work in the future? Here are tips on what you can do to support a well-planned kitchen if things aren't as easy as they once were. Body-adapted and hence back-friendly arrangement of storage space, electrical appliances and working heights are a relief to users of all ages. Select oven and dishwasher at eye level if possible. Full pullouts are a must, too: This way, you can avoid hard-to-reach corners in cabinets. Good lighting, short paths without tripping hazards and intuitive operation are also benefits for ergonomics. For instance, kitchen faucets with Select function offer the greatest comfort at the sink, making kitchen work easier for all. At the touch of a button, water flows at the preset temperature and spray intensity and can easily be turned off, too: this is most convenient if all hands happen to be full or dirty from kitchen work. Operating comfort at the sink is crucial for people with a limited radius of action: The Comfort zone for optimum height, or control elements within reach, are a considerable help.
Ergonomics in the kitchen for all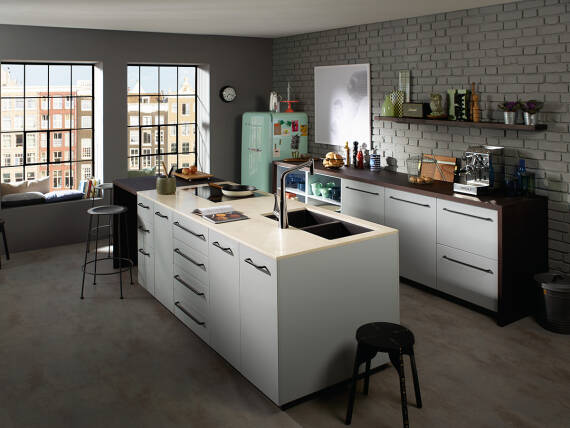 Kitchen highlights are a natural part of design-conscious living
Are you planning a kitchen that uses select design to set special accents in the living quarters? Then let the kitchen faucet become a highlight at the sink! Perhaps you have a cooking island with worktop and sink as a new center of attention in the open-plan, eat-in kitchen? Combine the minimalist geometry and elegant contouring of hansgrohe faucets to create your own individual design setting. The living style ca nd highlight the gleam of stainless steel and clear lines, or whether you prefer warm and natural materials. Not least in contrast with other finishes, the well-thought-out sink will become the visual hub of your kitchen, fascinating you anew each day. hansgrohe kitchen faucets are masterpieces of consummate design: Behind these faucets is the award-winning creative studio Phoenix Design, which is also responsible for hansgrohe sinks.
An eye-catcher for the sink unit
Authorised dealers
Locate showrooms of authorised dealers near you
hansgrohe Loading Dealer Options
An error has occurred. Please refresh the page.