Conserve water in the bathroom
hansgrohe EcoRight can save water and money
Water is our Planet's most precious natural resource. hansgrohe showers and faucets equipped with EcoRight technology consume up to 40% less water than conventional showers and faucets. What's more, reducing water consumption also reduces the energy used to heat water. All in all, this means lower costs of ownership without sacrificing the product performance you expect. EcoRight is therefore good for both the environment and your wallet.
Your water and energy bills can show you how efficiently EcoRight is working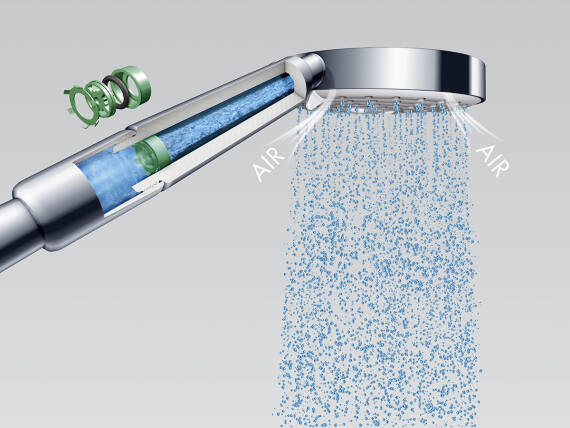 hansgrohe EcoRight
is already hidden inside many hansgrohe products.
How you and your family can benefit from EcoRight technology:
Several shower products are available with water consumption reduced to 2.0, 1.8, and 1.75 gallons per minute on overhead and hand showers (some green products even consume only 1.5 gallons per minute)
All hansgrohe lavatory faucets require only 1.2 gallons of water per minute or less compared to the standard flow rate of 2.2 gallons per minute
Depending on usage, you can expect decreased hot water consumption, and reduced energy consumption, and therefore costs, accordingly
Product performance is maintained via a consistent flow rate, even at different water pressures, and a commitment from hansgrohe to deliver only the best performance possible at a given flow rate
How the hansgrohe EcoRight technology works on hand showers:
Do something good for yourself and for the environment – conserve water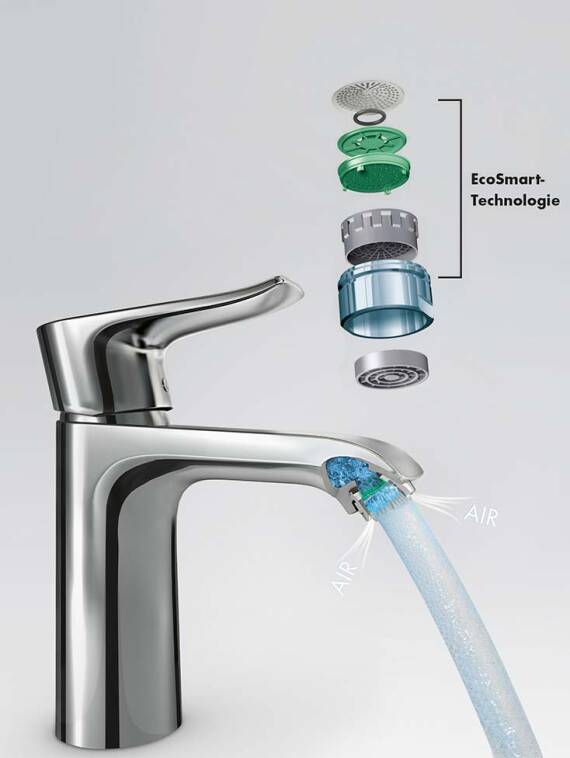 hansgrohe EcoRight reduces your daily water consumption at the wash basin by up to 40%. A huge savings! Multiply the reduction in consumption by the number of faucets in your home. As you will see: EcoRight technology from hansgrohe does a lot to reduce the burden on the environment and also on your budget.

Thanks to EcoRight, water consumption on all hansgrohe lavatory faucets is reduced to 1.2 gallons per minute or less. How does that work? By adding air and by using a special water flow controller. The EcoRight aerator is built into the spout of the faucet and enriches the water with air. The result: a full, bubbling jet of water. A "precision elastomer" compensates for different water pressures, even when the pressure fluctuates, ensuring constant dependable performance and a consistently powerful water jet. It limits the flow, while maintaining performance, thus conserving drinking water.
How hansgrohe EcoRight works in taps:
Check out hansgrohe products with EcoRight technology here:
Authorised dealers
Locate showrooms of authorised dealers near you
hansgrohe Loading Dealer Options
An error has occurred. Please refresh the page.