Simply renovate and modernize
Quickly upgrade your bathroom with new exposed-installation products for the shower and bathtub
Would you like to freshen up your bathroom without tearing down any walls or carrying out extensive renovations? Then choose one of many hansgrohe products for exposed installation. These faucets and shower systems upgrade your bathroom, both technically and visually to quickly make showers and bathtubs personal islands of wellness.
What is exposed installation and when does it makes sense
Exposed-installation thermostat and hand shower is a classic installation variant for the shower. In the bathtub, this also would include the tub filler. If you've always wanted a large overhead shower, then a shower system would be your first choice. With this state-of-the-art unit consisting of an exposed-installation thermostat, an overhead shower and a hand shower, the design and function all come from a single source.
"Renovation light" – easy to install to existing connections
Complete systems like these are attractive if you want to update your bathroom in an uncomplicated way: Simply add the exposed-installation products to existing connections. Because connection dimensions are standardized, all hansgrohe systems will fit into your bathroom. Even if you live in a rental unit, the upgrade is worthwhile, because exposed-installation faucets and thermostats as well as shower systems can be removed again quickly.
And how does concealed installation work? You save room if you integrate your thermostat(s) flush seamlessly into the wall, and it looks elegantly understated. This design minimalism gives you greater freedom of movement when showering or bathing. However, the installation is somewhat more complex, because the technology is installed behind the plaster in a base set. If this extra effort is okay for you take a look at our concealed-installation solutions here.
Available exposed-installation controls and what they can do
At hansgrohe, you will find exposed-installation faucets for every preference, every bathroom situation and every budget. All of them perform loyal, dependable service. Here you will find a product breakdown designed to help you make your selection. hansgrohe offers a variety of ergonomic handle and design variants as well as different finishes. With the use of modern technology, such as integrated silencers, for example, these hansgrohe products are particularly quiet. 
Single-hole or two-handle faucets
The easiest way to control water is offered by shower or bath tub faucets. Choose between easy-to-operate mixing faucets or flexible two-handle faucets. From subtle basic models to imposing luxury faucets, you'll find everything at hansgrohe. Here's a tip: Combine your new faucet with a hansgrohe hand shower and wallbar from the same design style.
Thermostats – safe control centers in the shower and bathtub
Exposed-installation thermostats are equipped with technologically elaborate inner workings. They dependably and constantly regulate the water temperature. This makes it highly comfortable for you in the shower and bathtub, and it protects you against unpleasant fluctuations. hansgrohe thermostats meet high safety standards that reliably protect you from injury due to heat and impact: for example, scalding protection thanks to the safety lock at 40° C, insulated body with rounded corners, and adjustable temperature limitation. 
Shower pipes – complete installations with many benefits
There are a number of benefits to opting for one of our exposed-installation shower systems, such as an overhead shower without having to tear open a wall. You can also enjoy a versatile shower experience with up to six spray modes and comfortable water control. We also have more simple model models, as well as beautifully designed deluxe variants with a "spa-like" feel. With select models, you will reap the full benefits of comfort and design.
HGHBWMediaGalleryImageElementComponentModel (8810873127996@4)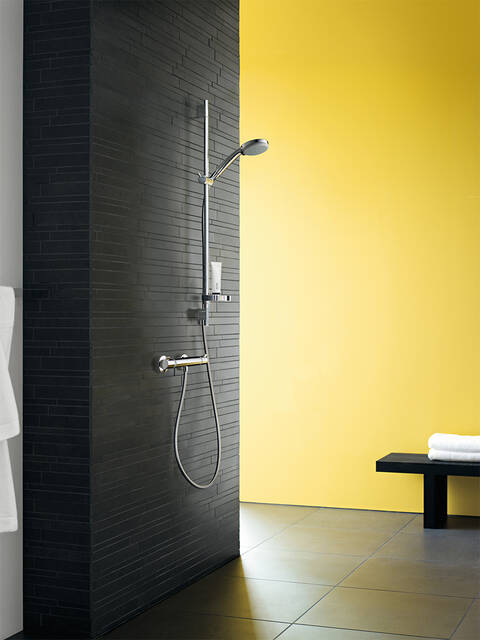 HGHBWMediaGalleryImageElementComponentModel (8811596252220@5)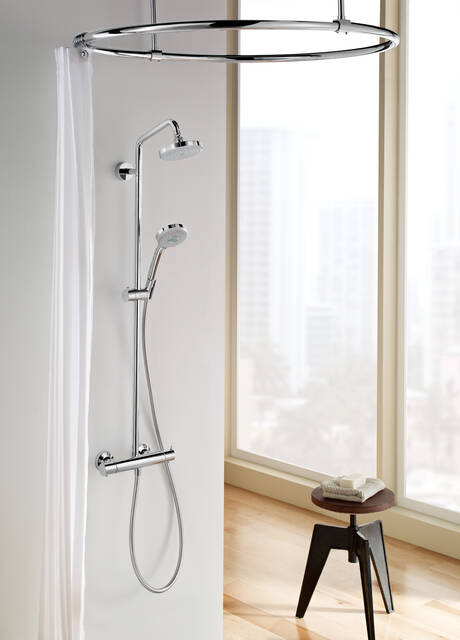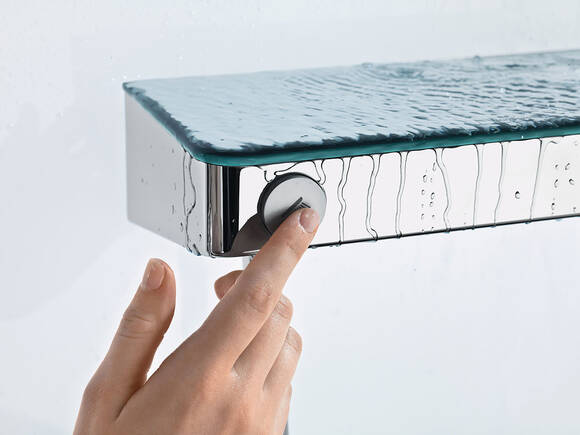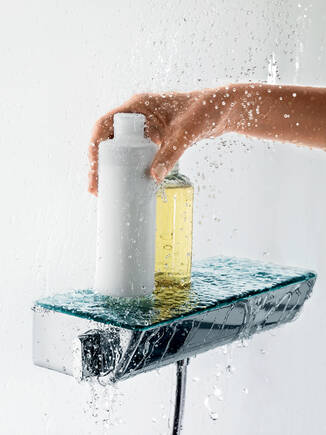 Frequently Asked Questions (FAQs) about exposed installation
Our decades of experience in customer service have shown that consumers have the following questions in particular. Here are the answers: 
Are the pipelines are too deep in the wall? No problem! Retailers offer corresponding extensions in all lengths. You can use them to easily install your new faucet or shower pipe.
Does the pipeline in your wall runs at a slight angle? No need to worry. With hansgrohe models, minor errors can be compensated for using the enclosed connections. 
Do you have a continuous flow heater or reservoir? This is no obstacle. Depending on the model, hansgrohe faucets and showers work with many hot water supply systems.
How long does the guarantee on your product last? Please visit review our warranty page for more information. 
Here's how: Installation to existing connections
Authorised dealers
Locate showrooms of authorised dealers near you
hansgrohe Loading Dealer Options
An error has occurred. Please refresh the page.