Bright and spacious
Mediterranean bathroom with modern fixtures and a natural atmosphere
A Mediterranean bathroom provides an attractive contrast to modern architecture. The harmonious connection between stone gray finishes and shades of color in earthy ocher creates a warm atmosphere. A seat with a generous view of the outdoors connects the room with nature and invites the user to stay awhile.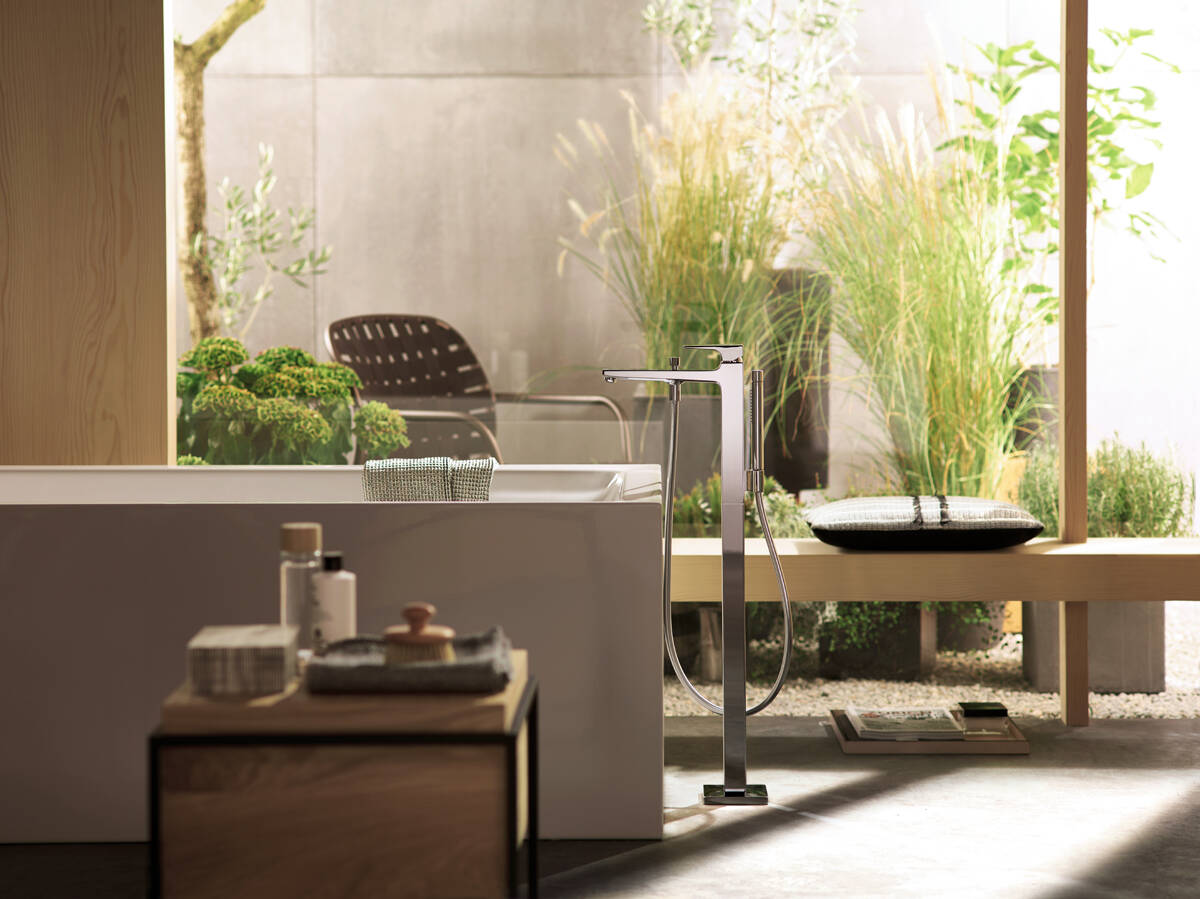 Warm furnishing style in a spacious bathroom
Natural accents of Mediterranean style design in a modern bathroom
Do you appreciate modern architecture combined with the warmth of a natural furnishing style? Then choose a home design with a Southern European flair and plan a Mediterranean bathroom with warm interior. In a room with a open floor-plan, areas of exposed concrete create the basis for a cozy retreat. An inviting wellness oasis with a spacious shower area, a freestanding bath tub and a cube-shaped sink is created separately from the functional area. A seat before the floor-to-ceiling window front invites you to relax and draws your gaze outdoors into nature. The wall of glass opens up the ambiance and brings the natural surroundings into the house. Mirrored surfaces behind the sink capture daylight and reflect it back into the room. Earth tones harmonize with the robust character of stone-gray exposed concrete and create a warm atmosphere.
Straight-lined shapes and innovative functionality, for modern water enjoyment
With their geometric shapes and gleaming chrome finishes, the faucets of the hansgrohe Metropol range emphasize the modern character of the Mediterranean furnishing style. In the floor-level shower, the large Rainmaker Select shower head is an eye-catcher with its white-backed spray disc made of glass. In combination with a color-harmonizing hand shower in white-chrome, versatile shower pleasure is assured. Innovative technologies offer ergonomic comfort and sustainability.
Authorised dealers
Locate showrooms of authorised dealers near you
hansgrohe Loading Dealer Options
An error has occurred. Please refresh the page.